Navigating the Help file
The Echoview Help file aims to provide information about Echoview's features and information in context with the data processing workflow. The power of the Echoview Help file lies in its: progressive accumulation of information about application features; the standards to which the content is written (this includes sign off for quality assurance) and hyperlinking.
Help file window
The Echoview help file is a *.chm file that is displayed by a Microsoft Windows Help-browser window. The Echoview.chm is found in the same folder as the Echoview application. Help content is written to topic pages. Topics discuss themes and concepts associated with Echoview features and its interface, and the data processing workflow. Hyperlinks within topics, between topics and to internet content provide knowledge-dense and expansive information.
The Echoview Help file window may be opened using:
 F1
Help menu > Contents
HELP button for context sensitive help information
Echoview web site: Technical Support menu > Help File displays WebHelp in an internet browser.
Notes:
The Update Echoview feature may also update the Echoview Help file when a new version of the Help file is available.
Help file internal hyperlinks are displayed in blue. External (internet) hyperlinks are displayed in green.
The current Echoview release offers WebHelp. WebHelp is an internet friendly version of the Echoview Help file that may be viewed by an internet browser. See also Computer requirements.
The Help file displays TOC-based navigation links at the top of a topic page.
Use CTRL+F (Find) to search for words in the current topic page. This feature is available for the Help browser (.chm file) and for the Firefox and Google Chrome browsers.
The TOC panel may encounter display issues under the Microsoft Edge browser. Click the Refresh button to fix.
Table of contents (TOC)
Echoview Help window > Contents tab
Many topic pages are linked to TOC books or TOC pages.
Available TOC books include: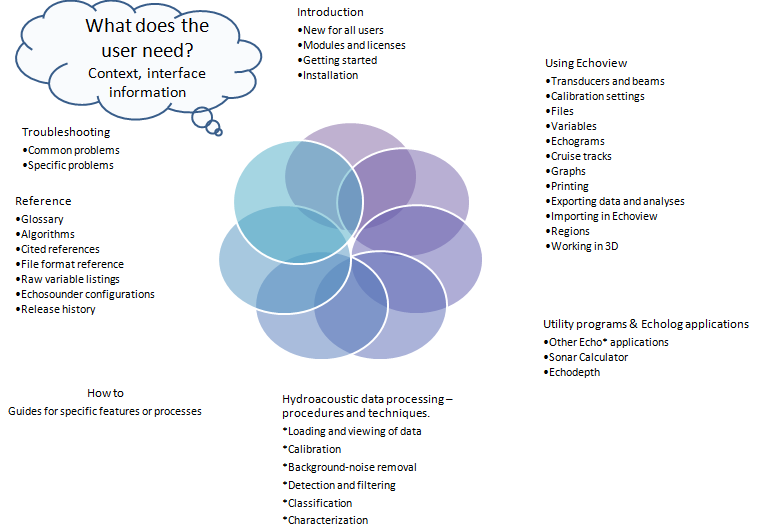 Index
Echoview Help window > Index tab
Many topic pages are linked to Index entries.
Help file standards
| | |
| --- | --- |
| Correctness | Correct facts and correct algorithms. |
| Consistency | Internally our terminology and style should be consistent. |
| Conformance | Our terminology and style should conform to standards - scientific, academic, mathematical. |
| Compactness | Be as short as possible while still being meaningful and accurate. |
| Clarity | Be clear and easy to understand. |
| Context | Provide context where required. Topics in help-materials are usually not isolated from other topics. Discussions in the reference/algorithm sections benefit when useful context is added. Journal or book references used and are cited where required. |
Search
The Help file window offers a Search feature on the Search tab. A search request displays ranked, Index pages or Table of Contents pages together with topic pages that are included in the Help file but may not be explicitly displayed in the Index or the TOC.
Favorites
Echoview Help window > Favorites
Use ADD to add a current topic to a list of favorite topics.
See also